RIESENTABLE GRILLMEISTER 1 1 greenstone slabs
No. 26146
B 4,12m x H 74cm x T 2,55m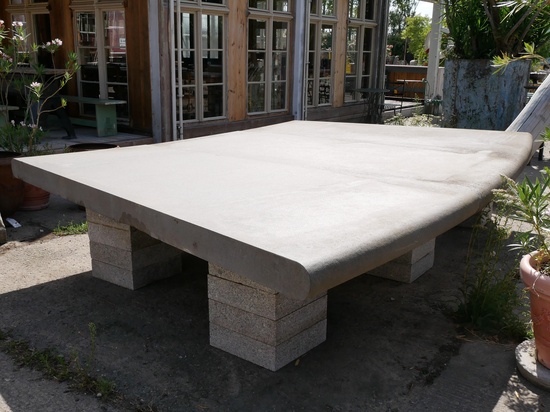 Originalgröße
1 position
€ 3795,00 3036,00*
per position
Description
Position consisting of 3 greenstone slabs and 30 granite slabs for the feet.
The table can accommodate 22 guests.
Dimensions table total:
Width: 4.12 m
Depth: ca. 2,55 m
Height: approx. 74 cm
The table tops are circular segment shaped and vary in dimensions. The long edges are flat, the short edges are curved.
The indicated widths indicate the edge length. For the total width, add approx. 5-10 cm.
Slab 1
Width: 2.47 m
Depth min: 1,06 m
Depth max: 1,40 m
Slab 2
Width: 2,47 m
Depth min: 1,08 m
Depth max: 1,34 m
Slab 3
Width: 2,73 m
Depth min: 98 cm
Depth max: 1,40 m
The 6 feet consist of a total of 30 granite slabs.
40 x 40 x 12 cm
Measures and Weight
Width: 4120 mm
Stärke/Tiefe: 2550 mm
Höhe/Länge: 740 mm
Material
Categories