Porticoroof with sandstone columns around 1900
No. 20814
B 3,60m x H 5m x T 2,05m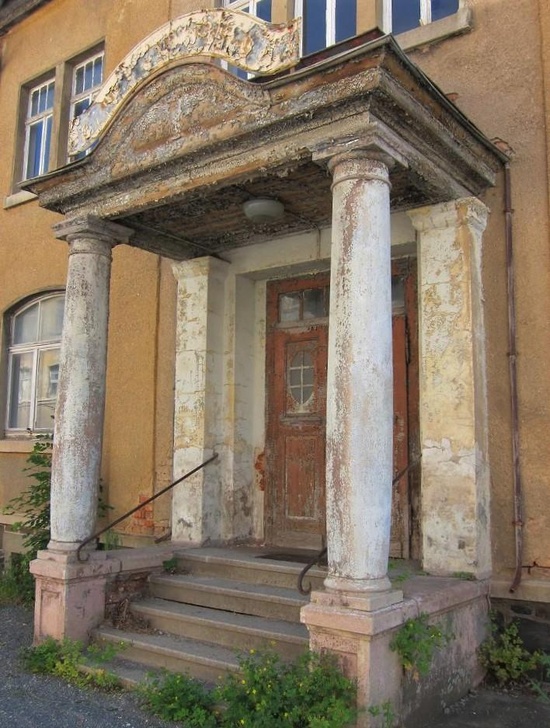 Originalgröße
1 position
€ 4950,00 2475,00*
per position
Description
The position consists of a wooden roof construction with zinc sheet covering and two columns and two bases, including covering for the stair stringers. The stair steps shown are not included:
Alternatively, we can offer you granite stair treads from our range: Article number 27548
In the course of time, both the roof construction and the columns were painted several times. Fragments are still preserved.
Roof construction
Wooden roof truss, zinc sheet covering. The frontal advertising sign is made of galvanised sheet steel and bore the inscription "Restaurant & Cafe".
Height: 1,55 m
width: 3,60 m
Depth: 2,05 m
columns
Two column shafts each with bases and capitals . In addition with the coloured settings a surface impression of sandstone is created. The columns, in the form of Doric columns, are bulbously arched in the lower third, tapering knically at the top and bottom. A simple profile strip forms the decor at the upper end. The plinths are round on a square ground plan with a simple profile, the capitals have an equivalent simple square profile.
Height: approx. 2.80 m
diameter: 40 cm
2 x height shaft: 2,51 m
2 x Capital: 51 cm (W) x 51 cm (D) x H 16 cm
2 x Base: 40 cm (W) x 40 cm (D) x H 16 cm
stair stringers
The individual blocks are made of the same material as the columns described above.
2 x base with rectangular profile at the front: 40 cm (W) x 40 cm (D) x H 56 cm
2 x cover base with profiled edges: 48 cm (W) x 56 cm (D) x H 15 cm
2 x cover stair stringers with profiled edges: 48 cm (W) x 90 cm (D) x H 15 cm
2 x blocks: 43 cm (W) x 43 cm (D) x H 20 cm
Measures and Weight
Width: 3600 mm
Stärke/Tiefe: 2050 mm
Höhe/Länge: 5000 mm
Weight: 5000.00 kg
Material
Epoch
Categories