Pair of small Fu dogs / temple guards around 1800
No. 28687
B 16cm x H 29cm x T 50cm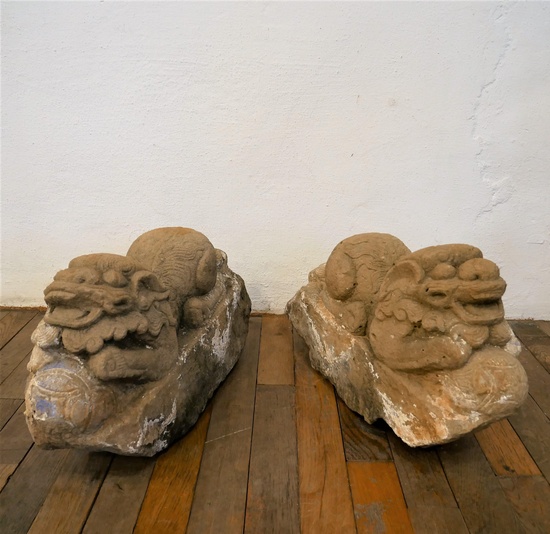 Originalgröße
1 pair
€ 2450,00 1960,00*
per pair
Description
In this pair, the lion with the silk ball is depicted twice. Partially fragments of a former colored version are still preserved.
Origin
Chengdu, Sichuan province
Dating
around 1800
Symbolism
Usually the guardian lions appear as a pair: On the right, the male lion with a silk ball, formerly a pearl, and on the left, the lioness with her cub under her paw. The male lion symbolizes the strength and power, the silk ball symbolizes the unity and power of the kingdom. The lioness with her cub symbolizes growth and well-being. Standing in front of the entrances of temples and public buildings, but also in front of private houses of wealthy personalities, the lions are supposed to keep away all bad influences.
Particularities
Victims of the Cultural Revolution
Measures and Weight
Width: 160 mm
Stärke/Tiefe: 500 mm
Höhe/Länge: 290 mm
Material
Epoch
Categories