Lion couple - temple guardians aroung 1900
No. 17054
B 47cm x H 95cm x T 80cm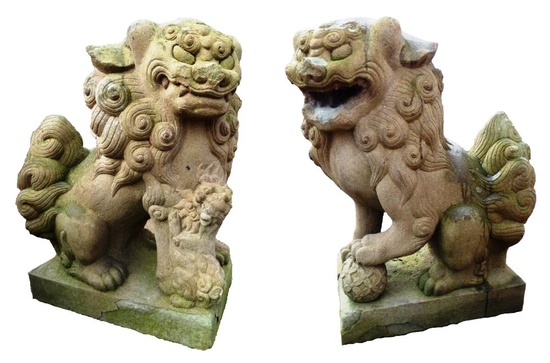 Originalgröße
1 position
Price on Request
Description
Location:
Landsitz Brüningslinden near Kladow a. d. Havel
The guardians were standing at the entrance of the country estate
Dating:
Provenence:
Symbolism:
The country estate was described in the magazine "Bauwelt" from 1925 with following explanation for the symbolism:

The entrance is flanked by two stone lions from China who served as temple guardians there.

The lion on the right has defeated the "little" lion, on his right foreleg.

The Chinese always represent the vanquished as small. The lion, on the other hand, uses his power as a victor and "plays" with the silk ball; for idleness and play are regarded in China as a sign of the ruler's power.
A different symbolism ist explained in other sources:
Typically the lion guards were presented as a couple. On the right side the male lion with a silk ball under his paw. And on the left side the female lion with her kitting. The male lion symbolize the power and the unit of the empire, the female lion representetd the growth and the wealth.
Diminsions:
Specified approximate dimensions refer to one lion.
Condition:
The base of the mal lion is flaking on the surface (you can see on the pictures), also the mouth.
Optional: No. 16786 - Stone pool with Chinese mythology
Measures and Weight
Width: 470 mm
Stärke/Tiefe: 800 mm
Höhe/Länge: 950 mm
Material
Epoch
Categories