Bäckerei/ Ladeneinrichtung Jugendstil Thüringen
No. 26413
H 2,60m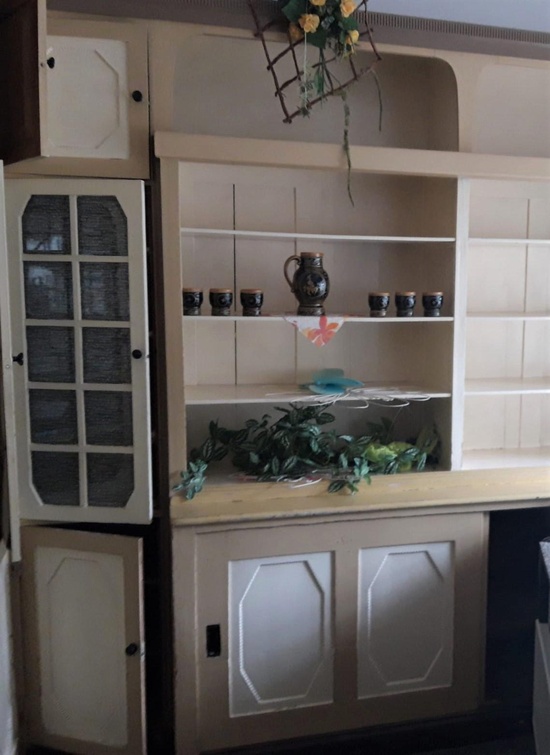 Originalgröße
1 position
€ 4800,00 3850,00*
per position
Description
Store furniture arranged across the corner in a plain Art Nouveau style.
Trim, baseboards, shelves, some hardware are included loose.
The item includes the following items:
3-part door
width: 1,79 m
height: 1,78 m
The middle part is fixed, on the right and left the door wings. Served as the back wall of the window display.
Buffet cabinet with sliding doors at the top and bottom
width: 2,12 m
depth: 65 cm
Height: 2,14 m; with two boards for superstructure: 2,60 m
The upper sliding doors with glass are slightly warped, but can be refitted with light machining.
Shelf cabinet with passage
width: 3,11 m/ shelf left: 80 cm/ cabinet right: 1,37 m
height: 2,60 m
depth: 44 cm
Corner cabinet, consisting of two parts
width: 84 cm x height: 2,60 m x depth: 70 cm
visible width: 48 cm
narrow cabinet
width: 48 cm x height: 2,60 m x depth: 43 cm
shelf (metal bars with glass shelves)
width: 1,10 m x height: 1,37 m x depth: 30 cm
Door for access counter area
width: 78 cm x height: 90 cm
Wooden work table
width: 1,75 m x height: 87 cm x depth: 75 cm
Work trestle wood covered with sheet metal
width: 79 cm x height: 61 cm x depth: 58 cm
Mixing bowls
Measures and Weight
Material
Epoch
Categories